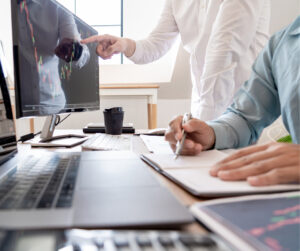 It's been a challenging cycle for the market, and title businesses, like everyone else, have been forced to tighten their proverbial belts. The typical approach to this is to cut back on costs unrelated to the direct generation of revenue. That could include support personnel, compliance resources and IT services or cybersecurity.
Don't do it. Here's why.
Not all "non-essential" functions are non-essential
The title industry, now more than ever, is a prime target for cybercriminals. And it's only getting worse. As ALTA reported, 86% of the title professionals it surveyed in 2022 said that the volume of cyber attacks either increased or stayed the same from the previous year. Almost half of the respondents reported that their employees receive at least one email attempting to change wire or payoff instructions monthly.
We've seen that all it takes is one such attack and a poor response to create a full-blown disaster—the kind that can cripple or even kill a business.
What happens when the business returns?
But it's easy to talk about the potential costs and consequences of cutting just about any resource. A similar argument is regularly made by compliance professionals when it comes to reducing resources to stay within the rules. They're not wrong.
That's why the answer, especially during lower volume periods, is the use of scalable resources. Variable costs are a big part of what's keeping everyone from mortgage lenders to title agents afloat in this down market. And by outsourcing, a business can maintain professional level services, including training and awareness of the latest threats.
For a title business, this isn't just limited to cybersecurity. IT services are every bit as important. We all know that, this being a cyclical industry, the order counts will eventually rise again. When is anybody's guess. But whether it's two months or 12 months, it's more likely that the increase in volume won't happen gradually.
It will come in the form of a flood, in fact.
Now imagine that the vital technologies upon which your workflow depends has been poorly attended to, or completely unattended, for that same amount of time. Will you be willing to leave money on the table while you onboard a new IT team? Will your throughput be at top efficiency to handle your new business? Or will turn times and errors drive your clients to other, more efficient title firms?
Now is not the time to cut back on your IT and cybersecurity resources. But it probably is time to outsource them to someone who can keep you current without breaking the bank.